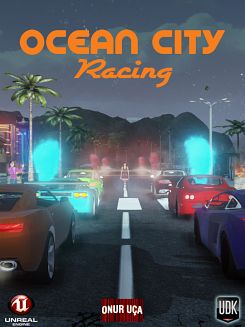 Release Description:
Ocean City Racing is an open world driving game powered by Unreal Engine 3. OCR features the biggest, most detailed and alive open world city , advanced driving physics and highest quality visuals ever seen in a low price indie driving game.
Features:
Unreal Engine 3: Powered by the industry leading game engine Unreal Engine 3 , Ocean City Racing offers a massive open world city with a traffic and a pedestrian system , a day & night cycle, dynamic, real-time lighting and shadows, also different weather conditions such as rain,fog and sun.
• Advanced Driving Physics: Ocean City features the most advanced driving physics ever seen in an indie game.
• Open World City and Environment: Apart from the city , Ocean City Racing also features an island which is connected to the city with a bridge and a highway , a tunnel that goes under the Ocean City mountains through another town and an subway system under the city which provides a huge area for the players to discover.
• Free Roam Mode: In the 'Free Roam' mode players can cruise around the city either with the vehicles that are scattered around the map , or they can explore the environment by exiting the car with a first person view. Free Roam mode has a lot of secrets to find. You can find and drive a hidden kart and even drive a Helicopter found in on of the rooftops and cruise around the city.
• Time Trial Mode: In the time trial mode players have the ability to choose one of the many tracks available and try to achieve the fastest time by going through the checkpoint flares and reach the car event location.
• Race Mode: Become the best driver in the Ocean City by completing this mode. Players will proceed by completing events in the first place and unlock new vehicles as they progress.
• Low Price – High Value: Ocean City Racing offers an AAA game quality open world environment , AAA game quality graphics and advanced driving physics for just $5.
• Vehicles: Features over 20 highly detailed vehicles to drive. Ranging from sports cars , muscle cars , super cars , off road vehicles. Even a kart and a quad bike can be driven.
• Progression : Ocean City Racing allows players to progress through time trials and circuit races and allow them to unlock new cars and events on the way.
• Soundtrack: Features songs of Christopher Amott from his 'Impulses' and 'Follow Your Heart' albums , as well as other instrumental and orchestral songs that fit the atmosphere of the game.
Publisher: Ocean City Racing Dev Team
Developer: Ocean City Racing Dev Team
Genre: Driving
Release name: Ocean.City.Racing-WaLMaRT
Size: 3362 MB in 38 files
Links: HOME – GameSpot – NFO – Torrent Search
Download: NETLOAD – UPLOADED – RAPiDGATOR – RYUSHARE