ONONE PERFECT PHOTO SUITE PREMIUM ED V7.5.0-XFORCE
Jun
16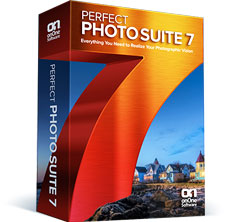 Description: Create extraordinary images in less time than ever before with Perfect Photo Suite 7. With seven powerful products, you'll have everything you'll need to solve the most common problems in digital photography, maximize your creativity and realize your photographic vision. Perfect Photo Suite 7 includes the new Perfect B&W to develop stunning black and white images, Perfect Portrait for simply easy portrait retouching, Perfect Effects and FocalPoint for creative effects, Perfect Layers for a layered workflow without Photoshop, Perfect Mask for replacing backgrounds and Perfect Resize for image enlargement. In Perfect Photo Suite 7, these seven products work together seamlessly as integrated modules and also support your workflow however you work. Perfect Photo Suite is a perfect companion to Adobe Lightroom, Photoshop, Photoshop Elements, Apple, Aperture—or it can be used as a standalone application.
What's NEW:
Introducing the new and improved Perfect Photo Suite 7! Create images that are even more extraordinary with powerful new tools, a new intuitive interface, and improved performance.
Discover Perfect B&W—the brand new module designed to help photographers of all skill levels create stunning black and white images. Retouch portraits faster than ever before with automated tools that are easier to use. Find more ways to enhance and stylize your images with hundreds of photographic effects, paint-in effects, and new blending modes in Perfect Effects. Updates to Perfect Layers help you fix common digital photography problems more easily and Perfect Resize is now up to 8x faster! With the new Perfect Photo Suite 7, it's even easier to realize your photographic vision.
Perfect Photo Suite 7 is available as Premium, Lightroom & Aperture, and Standard Editions; each designed to meet specific workflow and budget needs. Choose the one right for you.
Release name:
ONONE_PERFECT_PHOTO_SUITE_PREMIUM_ED_V7.5.0-XFORCE
ONONE_PERFECT_PHOTO_SUITE_PREMIUM_ED_V7.5.0_MACOSX-XFORCE
Size: 650 MB / 897 MB
Links: Homepage – NFO – Torrent Search
Download WiN:  UPLOADED – RAPiDGATOR – RYUSHARE
Download MAC: UPLOADED – RAPiDGATOR – RYUSHARE