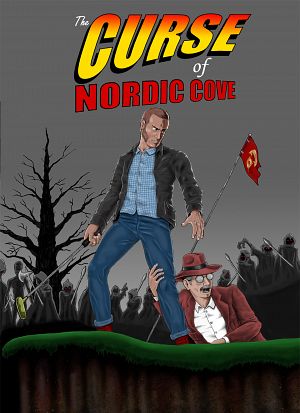 Description: It all started in Nordic Cove, a small hamlet in the fictional state we all know today as "New York". Once called New Hamburgerstand in the early A.D. years, it flourished with fur trades and Bacon Cheeseburgers. It was also home to the gravesite of a crusty, sorcerous, evil-naughty-person; the Viking warlord "Helfdane the Terrible!" Helfdane's tyranny of the New Land was halted during these very rough times due to bad planning, and terrible hygiene. Today, Bacon Cheeseburgers are still at an all-time high, and New North America is on the verge of being historically "inconvenienced" in the face. An archaeologist cork-sniffer named Dr. Howard Bre, and his lovely assistant, Kayte Sparo have disturbed this ancient gravesite. Thus, fulfilling a curse which reanimated Helfdane and his minions to rip the life force from beings starting with Nordic Cove! Gross! Kayte's boyfriend, Paulie Chops, must find the help he needs to turn this around, stat! This is their date night after all. Alright! YOU deal with that Helfdane thing. We're getting Bacon Cheeseburgers and staying warm. We'll be cheering for you!
Features:
Provides a fresh perspective in gaming.
Scoring and multiple difficulty levels provide replay value.
Publisher: On The Level Game Studios, LLC
Developer: On The Level Game Studios, LLC
Genre: Action
Release Name: The.Curse.Of.Nordic.Cove-SKIDROW
Size: 1.20 GB
Links: HOME – Gamespot – Amazon – NFO – Torrent Search
Download: NETLOAD – UPLOADED – RAPiDGATOR – RYUSHARE