Nero 2015 Platinum Lite v16.0.03000-P2P
Sep
27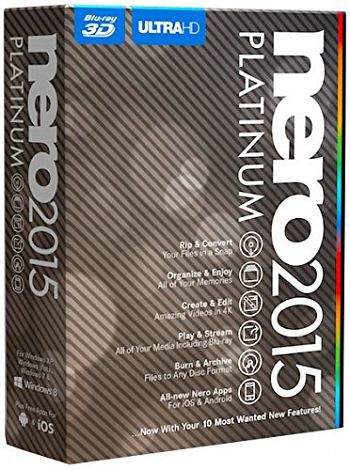 Description: You record video of anything and everything – family reunions, birthday parties, you name it. Family members have started calling you "Scorsese." But the final product always looks a little unpolished. And you know it. But now, there's the Nero 2015 Platinum suite of tools specifically for producing and burning standard and high-definition video. Now you can convert video, create title menus, and add cool after-effects to your videos. The Nero 2015 Platinum suite is unrivaled in power, meaning you too can harness industry-standard ripping and burning technology – you can even convert, rip, and copy gorgeous Ultra high-definition video – thanks to an easy-to-understand interface and comprehensive tutorials. A multitude of extra creative materials means you won't be at a loss for the perfect post-production accent for whatever you decide to produce, whether it's a retro film effect, stabilizing effects, or one of the 28 unique tilt-shift effects. With Nero RhythmSnap, you don't have to worry about your title menu falling flat – you can lay your favorite music in as the audio track. Save your favorite transitions and video settings as templates to keep your production looking consistent and polished. Compatibility across a multitude of devices, including Nero's Play to TV streaming, means not only can you take your productions anywhere, but you can also display them the way they were meant to be seen. You already know how to create great video. Now it's time to go Platinum.
Features:
Create photo books – Create lasting photo book, calendar and card memories with your family pictures in just seconds, and share with friends and family. No matter what the occasion, you can edit and create beautiful bound books, calendars and cards for gift-giving or for your own keepsakes. Best of all, you can showcase your beautiful pieces with professional printing, and have it delivered right to your door.
Convert DVD-Video* and video files – From videos on your mobile phone to DVD movies, every device seems to require a different playback format. Nero 11 provides advanced video transcoding that converts virtually any DVD-Video or video file to any video format for playback on any device so you can seamlessly watch your favorite videos anywhere or any place.
Import Windows Live Movie Maker™ projects – Import and edit Windows Live Movie Maker projects directly within Nero 11. Open Windows Live Movie Maker video files directly, then immediately begin enhancing the original project with more effects for professional results, all within a seamless editing experience. Use Nero's Advanced Editing features to give your videos the professional touch.
Easy and Advanced Video Editing Modes – Get amazing creative results no matter what level of video editing experience you have. Easily switch from express video editing storyboard to advanced multi-track editing with just one click, and seamlessly hand over the same project within the same window. Go from quick and easy template effects to multi-track editing, keyframe controls within the same video editing screen, amazing Picture-in-Picture effect overlay templates and more. Ramped up to give you the best output, your home video projects will impress your friends and family like never before.
Nero LIVEBackup – Take the hassles out of backing up with one-click Nero LIVEBackup for all your digital files and even your entire system. You can still choose manual backup, but only Nero LIVEBackup gives you continuous true peace of mind anytime, all the time.
Burn long lasting discs – Expect nothing less than the best with the experts who started burning. Exclusive Nero SecurDisc 3.0 with Surface Scan helps ensure disc readability regardless of scratches, age and deterioration so your content remains intact for a long time.
Ripping of DVDs – Move your movies from DVDs straight to your PC with one-click ripping. Put all your DVD and Blu-ray Disc movies* into one Media Library by ripping to your PC. Advanced settings let you rip exactly what you want—strip out unwanted sections, foreign languages, extras and more.
What's New in Nero 2015 Platinum?
Stream videos to any iOS & Android device
Nero AirBurn: Burn files straight from your Android & iOS device
Browse & tag photos and videos with places ("Geotags")
New Nero Launcher with instant access to the entire suite
Change the video-disc format on-the-fly when authoring
Hollywood-grade font styles and motion text effects for videos
Instant access to your Nero cloud
Five new mobile apps to help you learn and master Nero 2015
Stream to any TV or media player with auto-transcoding
Even faster video converting and burning
Release Name: Nero.2015.Platinum.Lite.v16.0.03000-P2P
Size: 68.3 MB
Links: HOMEPAGE – NFO – Torrent Search
Download: XERVER – UPLOADED – RAPiDGATOR – Uploadable – FileOM