CogniView PDF2XL Enterprise 6.0.2.313 Multilingual-P2P
Jun
7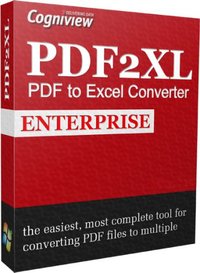 Description: PDF2XL Enterprise: Convert PDF to Excel is a feature-packed software solution specifically developed for PDF-to-Excel conversions, as the name implies. But it also supports other formats for the input, namely scanned, printed, image and layout items.The app's packed in a clean interface with an intuitive layout. Opening a file can be done by using either the file browser or by dragging and dropping it onto the working environment. Unfortunately, it is not possible to process multiple items in a single session.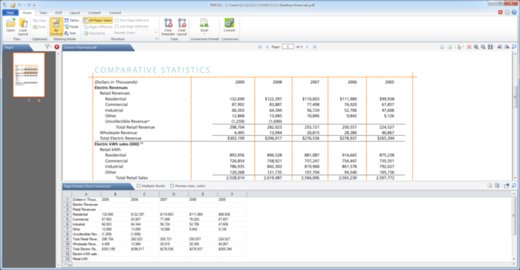 Features:
Convert ANYTHING to PDF2XL with a virtual printer – PDF2XL Enterprise adds our PDF2LX Virtual Printer to your computer so you can send anything that you can print directly into PDF2XL Enterprise for processing – images, web sites, proprietary software, third-party software and more.
Convert Scanned PDF file with error correction control – PDF2XL Enterprise supports scanned and image based PDF files and gives you a simple to use interface to control OCR corrections when necessary.
Convert JPG, BMP, PNG and other image formats with error correction control – With our built-in OCR technology and error correction control, PDF2XL Enterprise also supports full conversion for standard image files so you can convert your existing image library.
Convert long PDF files by applying a "Single Page Structure" to multiple pages – By re-applying a single "page structure", PDF2XL allows you to convert PDF files of any size.
Supports scanning directly into Excel – PDF2XL Enterprise allows you to streamline your workflow and scan your documents (Faxes, Printed Reports, Letters and Much More) directly into the software for quick conversion so you don't need to worry about handling more than one scanner software.
Save time and convert up to 500 pages per minute – PDF2XL allows you to convert multiple pages and multiple documents at a speed of up to 500 pages per minute, which means that even the longest files and batch directories will be converted in minutes.
Release Name: CogniView PDF2XL Enterprise 6.0.2.313 Multilingual-P2P
Size: 34.9MB
Links: HOMEPAGE – NFO – Torrent Search
Download: ViP FiLE – UPLOADED – RAPiDGATOR – Uploadable