To End All Wars Breaking the Deadlock-SKIDROW
Dec
11


Release Description:
As the advancing central powers got bogged down across Europe and the troops were digging in to their trenches, a stalemate formed and the hopes of a quick victory were dashed on both sides. When all was quiet on the western front however, both the Central Powers and the Entente kept looking for opportunities gain the advantage elsewhere. Seeking out new allies in the Balkan region, launching campaigns in the Middle-East and aiming for breakthroughs on many different fronts. All this was done with only one goal in mind: Breaking the Deadlock.
To End All Wars: Breaking the Deadlock is the first expansion to the most detailed World War One wargame ever created. Adding 5 completely new scenarios, this expansion aims to vastly increase the content in-game, giving players the option to focus on specific campaigns in Italy, the Balkans and even the Middle-East. In addition, the expansion also allows for the grand campaign to be started in 1916, allowing him to seek out his own opportunities to overcome the stalemate and win the War to End all Wars.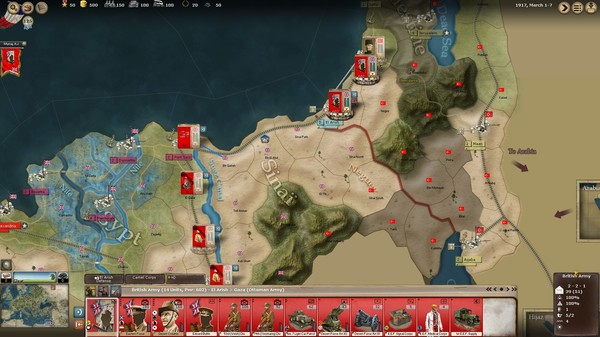 Breaking the Deadlock comes with a Grand Campaign spanning 1916 to 1918 and four smaller scenarios:
SERBIA 1915- 12 turns
Following the British assaults on the Ottomans in 1915, the Central Powers seek to secure a rail line into Ottoman territory, in order to be able to assist them in sending aid to their struggling ally. As a result, a new major offensive was launched against Serbia and this time the small Serbian nation is also attacked from the Bulgarian front.
RUMANIA 1916- 30 turns
Witnessing several hardships of the Central Powers in 1916, the Romanian government considered that now was the time to join the Russians and seize Transylvania. The Romanian army was in high spirits and would be able to quickly deal with the only Austrian army in the area, but how long would it last until German reinforcements would join the fight?
CAPORETTO 1917- 8 turns
This small actioned-packed scenario takes place in northern Italy, where a combined Central force sought to deal a decisive blow to the Italian army, forcing a breakthrough and taking them out of the war. The Italian 2nd Army was ill-prepared to deal with the offensive, but military help from their allies was underway.
PALESTINE 1917-1918- 24 turns
After the Gallipoli Campaign of 1915, veterans were dispatched to the Middle-East on each side, forming the Egyptian Expeditionary Force (EEF) for the British, and the Fourth Army in Palestine for the Ottomans, to fight for the Sinai Peninsula. In 1917, the British had moved into Ottoman territory, where they suffered two defeats at the Battles of Gaza. The Brits were determined to push on however and a new offensive was about to take place.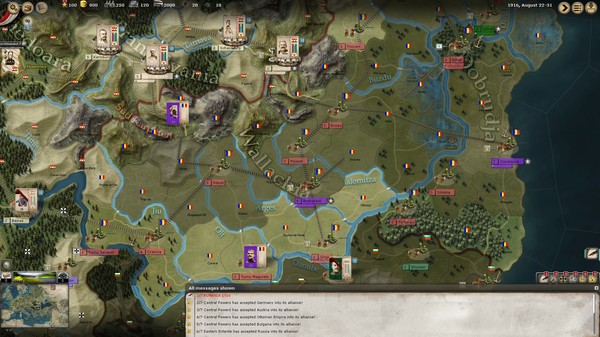 Genre: Simulation, Strategy
Developer: Ageod
Publisher: Slitherine Ltd.
Release Name: To.End.All.Wars.Breaking.the.Deadlock-SKIDROW
Size: 903 MB
Links: STEAM | NFO | Torrent Search
Download: NiTROFLARE – ViP FiLE – UPLOADED – RAPiDGATOR – ALFAFiLE