Windows 10 All-in-One For Dummies
Dec
28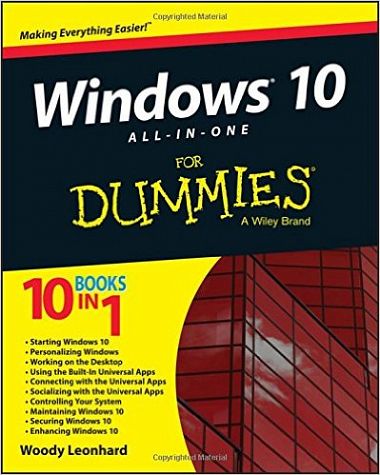 The most comprehensive guide to Windows 10!
If you're a first-time Windows 10 user looking for an authoritative, accessible guide to the basics of this new operating system, look no further than Windows 10 All-in-One For Dummies. Written by trusted Windows expert Woody Leonhard, this all-encompassing guide cuts through confusing jargon and covers just what you need to know: navigating the start menu, personalizing Windows, working with the desktop, maximizing Windows apps, and enhancing Windows 10. Plus, you'll find helpful instructions on connecting online with Apps, controlling your system, securing Windows, and so much more.
Whether you're upgrading to the new Windows 10 operating system with the hopes of keeping in touch with loved ones via webcam or instant messenger, viewing videos, or looking to make your work or personal life more organized and streamlined, all the guidance you need to make the most of Windows 10 is at your fingertips.
Windows 10 All-in-One For Dummies
English | ISBN: 1119038723 | 2015 | ePUB+MOBI+PDF | 984 pages | 217,22 MB
Download: NiTROFLARE – ViP FiLE – UPLOADED – RAPiDGATOR – ALFAFiLE