KS-Soft Advanced Host Monitor v10.14 Enterprise Incl Keygen-TSZ
Apr
21



Release Description:
Advanced Host Monitor is a professional network monitoring tool that comes packed with a multitude of tests, alert modes, powerful report manager and log analyser, and remote monitoring capabilities.
Advanced Host Monitor gives users the possibility to start or pause the monitoring process, enable or disable notifications, and select various network tests, ping operations, tracing tests, as well as email (SMTP, POP3, IMAP) and web (HTTP, URL, SOAP/XML) tests.
Collect information about the free drive space, CPU usage, memory, NT event logs, traffic monitor, and many others.
Perform searches, view a list with potential problems detected on the network, generate HTML, DBF, TXT, and WML reports containing detailed data about the entire monitoring process, and schedule tasks. Monitor any TCP device, set up notifications (display warning messages, send alerts to a specified email address or mobile phone number, execute external programs), and view the log files which contain useful data about the performed operations and possible errors.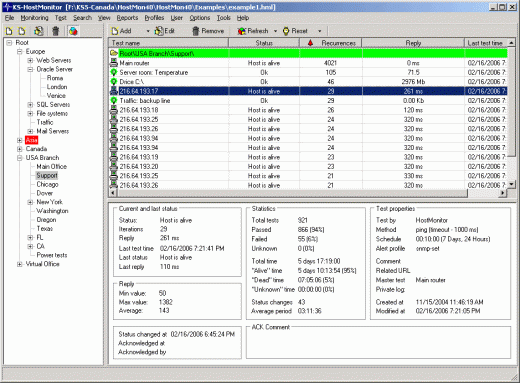 Features:
using 77 test methods our software can check almost any parameter of your servers;
highly flexible action profiles allow you to start actions in predefined order depending on the test results;
HostMonitor creates various log files using different detail levels and file formats (Text, HTML, DBF and ODBC);
built-in Report Manager allows you to create and customize reports to your liking in a variety of ways;
using Remote Monitoring Agents for Windows, FreeBSD, Linux, NetBSD, OpenBSD and Solaris you may easily monitor remote networks;
Web Service, Telnet Service and Remote Control Console simplifies remote management;
and this is not all…
Release name: KS-Soft.Advanced.Host.Monitor.v10.14.Enterprise.Incl.Keygen-TSZ
Size:  20.9 MB
Links: HOMEPAGE – NFO – Torrent Search
Download: NiTROFLARE – UPLOADED – RAPiDGATOR – UploadRocket