Agisoft Photoscan Professional v1.2.5.2594 Incl Keymaker-CORE + Mac
Jun
20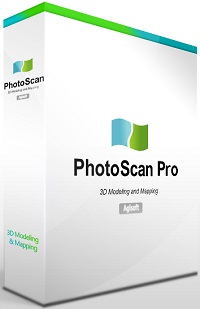 Description: Agisoft PhotoScan is an advanced image-based 3D modeling solution aimed at creating professional quality 3D content from still images. Based on the latest multi-view 3D reconstruction technology, it operates with arbitrary images and is efficient in both controlled and uncontrolled conditions. Photos can be taken from any position, providing that the object to be reconstructed is visible on at least two photos. Both image alignment and 3D model reconstruction are fully automated.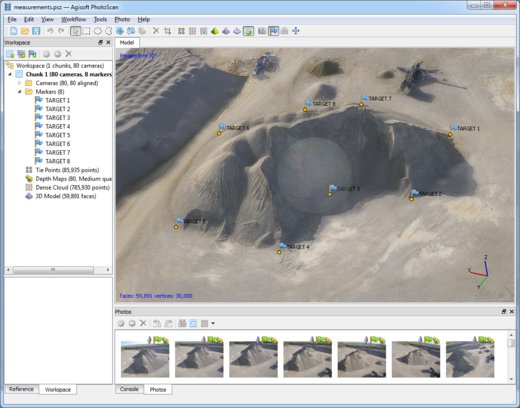 Professional Edition Features:
Added compatibility of tiled models with Skyline, Agency9 and Diginext solutions.
Added support for distributed tiled model export in network mode.
Added support for camera import in BINGO and VisionMap formats.
Fixed compatibility issues with distortion coefficients in INPHO projects.
Added Ground altitude option in Reference Settings dialog to support Reference preselection for oblique imagery.
Added projected total resolution in DEM and orthophoto export dialogs.
Added Split in blocks option in Export Points dialog.
Added Reset Classification command for Dense Cloud.
Added support for non-coded and 20 bit coded circular targets detection.
Added support for marker detection on black background.
Updated coded target sets for more robust detection.
Added Classify Ground Points command in Batch Process dialog.
Extended list of available parameters for various commands in Batch Process dialog.
Release Name: Agisoft.Photoscan.Professional.v1.2.5.2594.Incl.Keymaker-CORE
Release Name: Agisoft.Photoscan.Professional.v1.2.5.2594.x64.Incl.Keymaker-CORE
Release Name: Agisoft.Photoscan.Professional.v1.2.5.2594.MacOSX.Incl.Keymaker-CORE
Size: 41.7MB , 48.8MB, 73.3MB
Links: HOMEPAGE – NFO (x86) – NFO (x64) – NFO (Mac) – Torrent Search
Download x86: NiTROFLARE – UPLOADED – RAPiDGATOR – UploadRocket
Download x64: NiTROFLARE – UPLOADED – RAPiDGATOR – UploadRocket
Download Mac: NiTROFLARE – UPLOADED – RAPiDGATOR – UploadRocket