Suspended Animation: Pain, Pleasure and Punishment in Medieval Culture by Robert Mills
Jul
31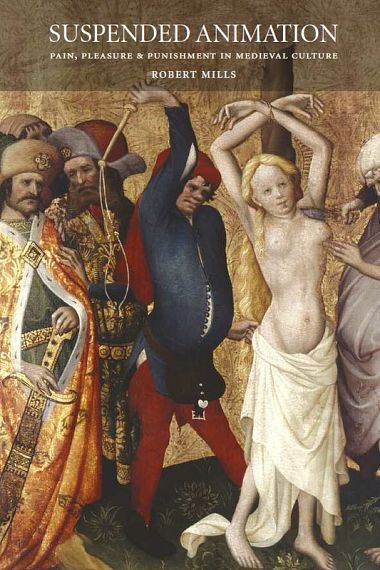 When Marsellus in the film Pulp Fiction asserts, "I'm gonna git medieval on your ass," we know that he is about to bring down a fierce and exacting punishment. Yet is the violence of the Middle Ages that far removed from our modern society? Suspended Animation argues that not only is the stereotype of uncontrolled violence in the Middle Ages historically misleading, the gulf between modern society and the medieval era is not as immense as we might think. In fact, both medievals and moderns live within a social tension of "suspended animation" engendered by images and acts of violence.
Just as in medieval times, Robert Mills argues, it is the threat of violence—not the reality—that continues to structure our lives. To illustrate this "aesthetics of suspense," Mills draws on extensive and disturbing examples from medieval iconography, contemporary philosophy, and even pornography, ranging from the vivid depictions of Hell in Tuscan frescoes to Billie Holiday's famously wrenching song "Strange Fruit". Mills reveals how these uncomfortable images and texts expose a modern self-deception, and he further explores how medieval images evoked a pleasure revealingly close to that found in modern depictions of sexuality. Suspended Animation also makes a fresh contribution to theoretical debates on pre-modern gender and sexuality. Mills's comprehensive analysis demonstrates that—as wartime prisoner abuse incidents at Abu Ghraib and Guantánamo Bay have recently indicated—our notions of ourselves as not-medieval (that is, civilized) not only fail to prepare us for modern torture and warfare but also lead us into complicity with self-proclaimed moral and civic leaders.
Whether considering a medieval painting of a Christian martyr or the immense popularity of grotesque historical tourist attractions such as the London Dungeons, Suspended Animation argues that images of death and violence are as pervasive today as they were in the Middle Ages, serving as potent reminders of the link between the modern and the medieval era.
Suspended Animation: Pain, Pleasure and Punishment in Medieval Culture by Robert Mills
English | 248 Pages | PDF | 5,37 MB
Download: NiTROFLARE – UPLOADED – RAPiDGATOR – UploadRocket