Description:
Alive Flash Slideshow Maker is a professional slideshow builder to easily create high-impact photo slideshows. It turns your digital photos to flash ( SWF ) slideshow with background music and transition effects. So that you can upload the output flash file to websites and share your memorial moments with your family and friends. You can also post the flash slide show on on MySpace, facebook, YouTube, or your Blog.In addition, Alive Flash Slideshow Maker supports generating executed flash file for your convenience. This feature gives you the ability to play the output flash slideshow without flash player and web browser.
With this extremely easy to use flash slideshow maker, You don't need to learn any additional skills to make a flash slideshow. Simply drag & drop the photos into Alive Flash Slideshow Maker, click "Publish" and a stunning flash slide show will be generated. Alive Flash Slideshow Maker supports almost all picture formats including JPEG, BMP, GIF, TIFF, PNG, PSD, RAW, WMF, EMF, etc.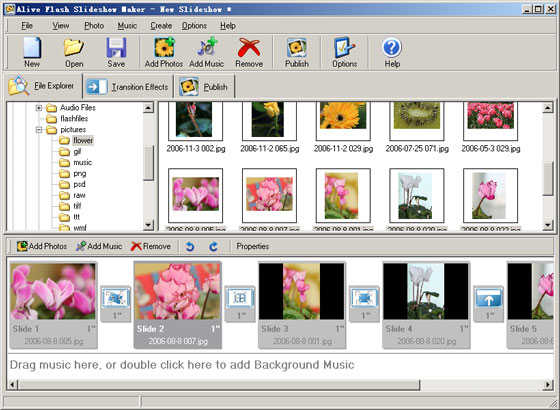 Features:
Drag and Drop supported
1. Add photo slides by dragging one or multiple photo files from Windows Explorer or the "File Explorer" area to the "Slide List" area on the main interface of Alive Flash Slideshow Maker. 2. Adjust the slide order by dragging the slide thumbnail(s) to the desired position. 3. Change transition effect by dragging and drop your faverite transition effect from "Transition Effects" tab.
Easy to Use
With our easy to use interface, you can make a flash slide show in several seconds. Just add your photos to Flash Slideshow Maker and publish your flash slideshow with a few clicks!
Full Customizable
You are able to fully customize the properties of individual slide and the whole slideshow. For each slide, text, transition effect, link URL, slide duration and transition duration can be changed to fit you want. For the whole slide show, the size, background color, frame rate, image quality, navigation bar, preloader and background music can be customized.
Background Music
This feature enables you to add one or multiple MP3 or WAV files as background music for a flash slideshow.
Text
For each slide, you are allowed to add one or multiple text to the slide. You can also choose different font, color, size, font style for each line of text.
Transition Effects
Numerous transition animation effects provided. You can choose from Wipe, Fade, Blinds and more than 30 transition effects.
No Flash IDE Required
Alive Flash Slideshow Maker is a Windows stand-alone application. No any Adobe Flash IDE software required. Beside, you don't need any Flash Code knowledge to use this flash slideshow maker program. Just add photos and click "Publish".
Preloader
You can add a preloader for your flash slideshow. Moreover, the color of preloader can be changed.
Navigation Panel
A navigation panel can be added and generated to the output slideshow. On the other hand, many options of navigation panel provided for you to change the properties of a navigation panel.
Loop
Defines either the slideshow plays with looping.
Add Link for Each Slide
You are able to apply different links for each photo in the slideshow.
Release name: Alivemedia.Flash.Slideshow.Maker.v1.2.0.8-BEAN
Size: 5.5 mb
Links: HOME – NFO – NTi
Download: HOTFiLE –