Description: Tetris Party Deluxe builds on success of Tetris Party (formerly found on WiiWare)by adding new modes and features to enrich the overall game play experience. The game features six new game modes, including the explosive Bombliss and VS. Sprint — a mode that enables up to four players to compete for the first 40 line completion! In addition, there are four additional enhanced modes of play including an Edit Mode within Shadow that lets players create their own shadow puzzles to play. And for Tetris fans who like playing with others, Tetris Party Deluxe has a wealth of modes including online battles over Nintendo Wi-Fi Connection in addition to local multiplayer fun for groups of friends and family. With the Wii version, there are even crazy ways of playing the game — use the Wii Balance Board, Wii Wheel, Wii Speak or your own personal Mii to customize the game experience!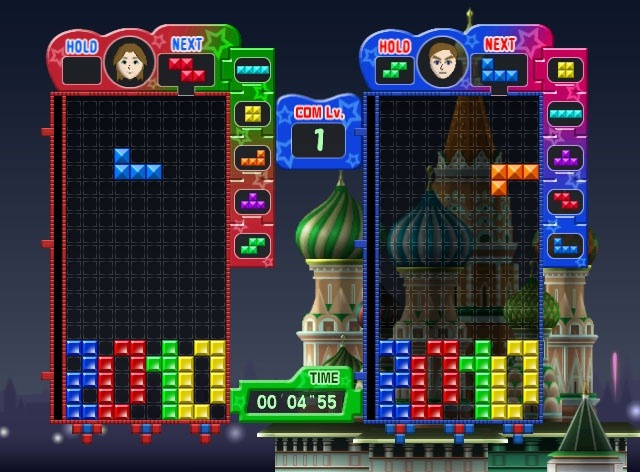 Features :
* Six new game modes — Bomblis, Sprint, VS Sprint, Master, Co-op VS Co-op, and All Clear Sprint.
* Four new enhanced modes of play — Field Climber now includes an "Everest" option for added challenge with endless play. Shadow now includes an "Edit Mode" to give players the ability to create their own puzzles. Stage Racer now includes an "Abyss Mode" that extends the length of race course for an ultimate endurance test. Duel Spaces now includes improved rules for a more intense multiplayer experience.
* Battle it out with friends during multiplayer mode (online and local) by using 13 exciting items to prevail against your competition.
* Track your progress with in-game statistics that award more than 130 achievements.
* Take advantage of the unique point-and-shoot capabilities of the Wii Remote, or enjoy the nostalgic feel of the Classic Controller (sold separately)
* Break a sweat and use the Wii Balance Board in specially-marked modes. Lean left and right to move the Tetriminos left or right; lean forward or backwards to increase the drop speed; squat to rotate them!
* Use the Wii Wheel to steer your way through the many levels of Stage Racer.
* With Wii Speak, you can chat with up to 3 other friends within the Wi-Fi Battle lobby.
* Enjoy Tetris with up to 3 other players in local play or up to 5 other players via Nintendo Wi-Fi Connection.
* Play with your own Mii to personalize the overall gaming experience.
Release name: Tetris.Party.Deluxe.PAL.WII-ACTiViSiON
Size: 4700 MB
Release Date: 02.09.2010
Region: PAL
Publisher: Majesco
Developer: Hudson Soft / Tetris Online Inc.
Genre: Puzzle
Language:
Links: IGN – Gamespot
NFO: Here
Torrent (Search) : NTi | TPB | iSO
NZB (Search) : Binsearch – NZBIndex
http://www.fileserve.com/file/SeVyNWy
http://www.fileserve.com/file/WkN6Zmn
http://www.fileserve.com/file/X2J9g6s
http://www.fileserve.com/file/n3NECTa
http://www.fileserve.com/file/q8aGd7B
http://www.fileserve.com/file/vPMRkyW
http://www.fileserve.com/file/kCrcg9e
http://www.fileserve.com/file/tmXX93h
http://www.fileserve.com/file/cBCJnza